1. So at first can you introduce yourself, age, hobbies, work, musical experience with some bands, and how you came into the skinhead scene?
Dennis Riot I'm old enough to drink. I like the NY Mets, Porno & booze. I started going to to shows at CBGB's and got into alot of the HC bands. Which we're all filled with skins like Agnostic Front, Warzone, Cro-Mags, Murphy's Law and YDL was just a skinhead band. So that's how I came into things.
2. You are the chief of United Riot Records, so can you tell us little bit more about it (brief history)? And it is run just by you?
Started in 2003 with the release of the FED UP! / CONDITION Split 7". It's run by me now. I had help from my cousin and my boy Jonny Foz from CT. In the past. Jonny Foz still helps out and is a real contribution to UNITED RIOT RECORDS but I'm head man in charge.
3. How do you chose the bands which you want to release?
Mostly bands I like but sometimes I'll help a friends band out even if it's not really my style. Anyway it's good to keep things diverse but we're not gonna turn weird like some other labels. I'm not a pothead or junkie so no dead head shit, hahahaha.
4. You are releasing both CD´s and EP´s...what do you prefer?
Ep's always. I like Lp's but they take up too much space. I hate packaging them up. I can put 300 ep's in the corner if I want but lp's makes me want to rent a warehouse, hahaha. CD's are fine too but I prefer vinyl.
5. It is great that you are releasing old "lost" demo recordings of the bands
like Frontline Soldiers, NY Hoods or Strong Island Bootboys...how did you come by to put these records out?
Well one I have all the demos from these bands. I would've put out Frontline Soldiers & Strong Island Boot Boys out a while ago but didn't have the money at the time. FRONTLINE SOLDIERS - OATH OF LOYALTY is a great 7" we're proud of that record. The Strong Island Boot Boys if officially put out by a new Label called Under Watchfull Eyes with contribution from UNITED RIOT RECORDS. NY HOODS I got in contact with them and they just said yes and that's some Old School NYHC.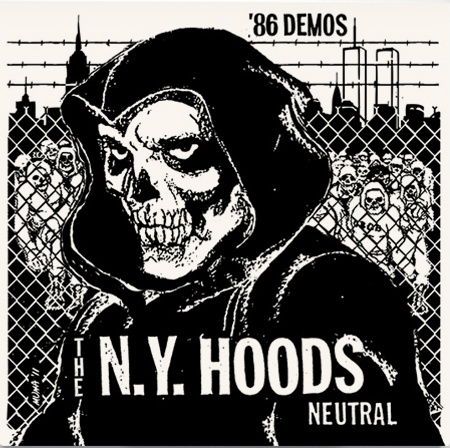 6. When I saw some photos from the gigs of bands which you released it looks like big united party with HC kids and skinheads...and also band members are playing not just in one band...can you describe shortly this part of scene in New York? Can you tell us something about new breed bands besides Offensive Weapon and Fed Up!?
It's not really united. Back in the day you had more mixed shows. Seems like bands today stick to each others click. There's HC shows, punk shows & Oi! shows all separate. FED UP! plays with alot of Oi! bands because they have skins in the band and they like Oi!. There one of the few HC bands that will play with Oi! bands. Murphy's Law plays with everyone, Step2far, DOWNLOW NYHC & Templars too but most of the bands stay to there own thing which is boring to me. The new bands to check out are 45 Adapters NYC Oi!, Hatin Em NJ Oi! & Abject NYHC.
7. And how is the scene in such a big city as New York is? Can you describe it in general or it is different from part to part? Is there rivalry between New
York skins and Jersey skins from other bank of Hudson river?
Yeah it's a little different. Alot of the shows are going on in Brooklyn & Queens these days, the city is overrun by tourists. Most of the Jersey Skins come to NYC anyway cause Jersey is pretty boring for the most part. Plus bars close at 2am in NJ and 4am in NY where the fuck would you rather be?
8. Can you tell us something about Crew 211?
211 crew started in 1999 just a group of Skins who didn't give a fuck and hated commie scum like rash. There's members in most of the Oi! bands from NYC.
9. What about the gigs? Are you taking part in organization? And it is difficult to make a skinhead gig in New York City?
I've done a few shows but it's such a pain in the ass. Not really my thing. It's not difficult just takes the right person to do them.
10. Skinheads in Europe supporting often local football (soccer) teams, what
about skins in US? Hockey, baseball, basketball, American football or also
soccer?
I like baseball but the US Skins are getting all into the football / soccer thing. They have the NY Hammers that support West Ham United. I don't get it but to each his own.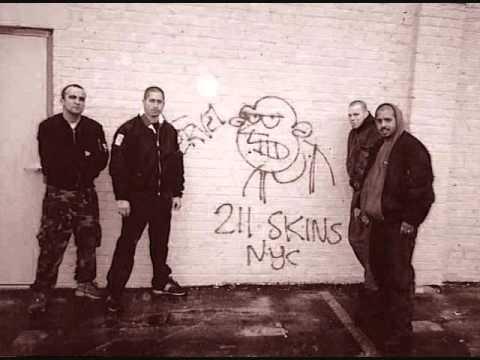 11. Do you plan to release also some band which isn´t from United States?
Sure but that's in the works. There's good bands all over.
12. What are your relationship with other US labels?
Some good some bad but we support Longshot cause there doing alot. Also Hostile Class, Pirates Press Records, Skinflint Music & Under Watchful Eyes are good labels as well.
13. Do you know anything about Czech republic (in general and also about
skinhead scene)?
Sorry not so much. I deal with 4Subculture Records there a good label and good people as well. So I know about the bands they put out like Riot but other than that I don't know too much about the scene.
14. Plans for the future...
The Next Release will be Bad Assets - The Spirit of Detroit CD. There a great Oi! band and people are really gonna like there music. Also in the works is Sick Society 1989 NYHC Skinhead Demo 7" & Vibram 94 7".
15. Last words
Thanks for the interview and support our label. Feel free to order here unitedriotrecords.com.
Anyone can write email on unitedriotrec@aol.com.